Our firm is structured so we always sit on your side of the table.  This means no commissions or compensation from any third parties, period.  Additionally, we do better if you do better. 
There are three different ways to hire us:
1.  Our most common model for serving clients is the Assets Under Management Model.  We do all of the financial planning work, as well as implement and manage your customized investment strategy on an ongoing basis.
We have a blended fee schedule for assets our firm manages, which is illustrated below: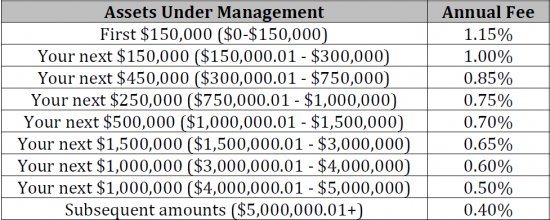 We generally work with folks who have at least $500,000 or more in liquid assets so you can fully take advantage of this offering.  If you have less than $500,000 or your assets are not liquid, our third model (Retainer Model), might be a better fit.   We can better understand your situation during the Mutual Fit meeting.
2.  The Flat Fee Model allows us to offer a second opinion on your financial plan, but without any commitment for ongoing advice or implementation.  This allows you to hire us for a one time fee, review your financial plan and make sure you are on track for your goals.  However, the asset management and ongoing implementation will fall on you or a third party.
The fee structure for this relationship ranges between $2,000 – $5,000, depending on the complexity of the plan.  
3.  The final model we offer is the Retainer Model.  This is a great fit if you do not qualify for the traditional assets under management model, but want help with not only the up front financial planning, but ongoing implementation and advice.
The fee for the up front planning relationship ranges between $2,000 – $5,000, depending on the complexity of the plan.  After the up front planning is complete, we charge a monthly retainer that ranges from $200/mo to $500/mo, depending on the complexity of the plan.   We don't have any contracts, so there is no fee or penalty for cancelling the relationship.
We believe having flexibility in how we charge gives us the chance to serve clients the way they need and want to be served.  As with all of our new clients, we offer a complimentary "Mutual Fit" meeting to determine what relationship is most appropriate.  You can schedule it by clicking the button below.